Juliana Nalú, model born and raised in Rio de Janeiro, has always been a dreamer. At the age of 6, Nalú announced to her mother that she wanted to be a world famous model. At the time, she was living with her mother and brother, Douglas, in the Complexo do Chapadao favela, north of Rio de Janeiro. Her parents had separated, but she still had contact with her father and three other half-siblings. On a recent sunny Saturday afternoon, I visited her at her home in Los Angeles, to talk about her roots and her journey to international recognition. Juliana Nalú said: "I wanted to do great things outside of Brazil, but I didn't know how… the dream seemed too far for me, but I knew I could try to reach [it]."
For many, Rio De Janeiro is a tropical Elysium, where sunny locals play football on Ipanema Beach and listen to Bossa Nova icons like Jorge Ben Jor at night. Nalú experienced this zest for life throughout her childhood, having fun with her neighborhood friends and cousins. However, her real star in the north was modeling and by the age of 13, Nalú and her mother were traveling through Brazil in her country's leading beauty and modeling businesses. When she was 18, she was selected to be part of L'Oréal Paris' Brazil campaign, and soon after landed a modeling agency. "My mother helped me achieve my dreams, travel with me to agencies and connect with the brand. I lived in the favelas with my family until I was 18," she says "It was difficult to deal with the violence, and I didn't have access to many privileges in Brazil, compared to others. However, my mother had so much love for [me and my siblings] and gave us everything we needed to be a good person.
Favelas are neighborhoods in which buildings are constructed informally from wood and plaster. These structures are often built on top of each other, on the outskirts of major cities, stacked against steep hillsides. Brazil is home to a diverse population, but the favelas are mostly filled with Afro-Brazilians. Racial conflicts born of colorism influence the way Brazilian populations perceive themselves, and the favelas are no exception. Nonetheless, according to Nalú, a robust culture has developed from the humble lifestyle of Afro-Brazilians in the favelas, providing them with a remarkable life. "I like the fact that when [I am] in Brazil [I] can just be [my]self. You don't have the pressure to want to be something or to be someone specific. My family always motivates me. So I'm free to be who I want or what I want.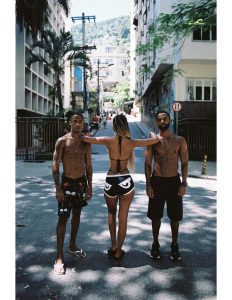 As Nalú found more and more success in Brazil, his dreams grew bigger and bigger. In addition to modeling in Brazil, she had also found success performing on a major Brazilian show. Then, in 2017, when she was 19, she visited Los Angeles, her first American city, and reveled in its similarities to Rio. While visiting the United States, Nalú signed with ELITE Models, which she credits with making her feel comfortable and representing her Afro-Brazilian "identity" well.
Over the next few years, Nalú traveled extensively to find work and applied for her US work visa. When the pandemic hit in early 2020, she found herself stuck in the United States, unable to return home or visit family in Brazil. , Finally in January 2022, after the easing of entry restrictions, she was able to reunite with her family. . Nalú says he was moved during the meeting: "In the favelas, we don't need much to be happy. I was in tears on my last trip to Brazil. You can see my people's minimal and simple ways of living. Simplicity is everything, and everyone is warm. She enjoyed her mother's homemade feijoada (black beans, meat, rice, cassava flour, vegetables and cereals) and remembered her childhood: "I was at the beach every day. I remember playing in the street with my friends [until late]. Brazil is more about freedom and having fun.
Brazil's equatorial climate serves its people well; Brazilians enjoy body movement activities that bring them pure joy during long hot days. The magnificence of Brazil is visible through the way the locals celebrate themselves and their bodies. Yet regardless of Brazil's physical landscape, grim socio-economic and racial disparities impact the country's political system, namely the frequency of gun-related incidents among the poor.
These violent events are often what defines Brazil through the eyes of global news channels and cinema. "The movie 'City Of God' was based on the land in Brazil," says Juliana Nalú. "The 'City of God' is an area of ​​land without energy, without electricity or water — nothing. So this is an example of [my] favelas. Apart from entertainment, "the news of Brazil is only the negative [depictions] on the violence. The Afro-Brazilian model reflects: "Going on a motorbike and wandering around the favelas; seeing your cousins, seeing your friends and playing, that's the beauty.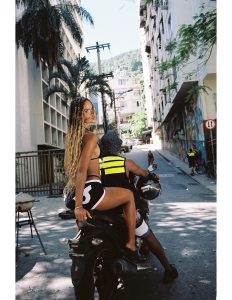 More recently, Nalú found an artistic community of women who helped her find a safe home in Los Angeles. She still plans to return to Brazil, of course, with another trip already planned for April. . "It's an explosion of culture that I love, and I'm so proud to say it's mine, and I'm part of Brazil. I just try to bring a little piece of Brazil with me wherever I go.
Juliana Nalú opens doors for Afro-Brazilians hoping to break into the fashion and modeling industry and aims to embody her home, wherever her career takes her. She is currently the only member of her family living outside of Brazil but hopes her success will also become their success. Nalú recognized the benefits of studying English and how it allowed her to break into different fashion markets. Brazil is a country where people can turn a blind eye to the disproportionate violence and suffering of people living in poverty and those of dark skin color. "The visibility I have now is a privilege," Nalú pauses to reflect on the path she has taken. "I want the world to see a Brazilian from Rio, from the favelas. Good things exist there. So for the next girls that come after me, the [industry] will be more open.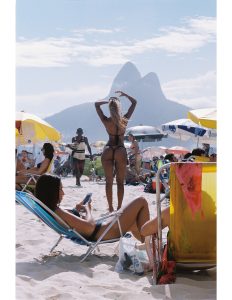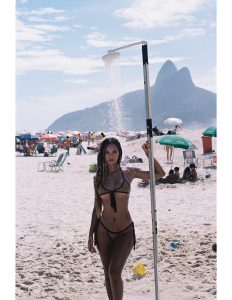 Credits:
Photography by Rafael Moura and styling by Moa Gijsen.